More
Ways, Life
Imagining new ways to get from here to better.
The RTC plans to eventually convert to an all-electric fleet and incorporate new transportation modes into its network to improve and expand service offerings for the community.
In close collaboration with the RTC, Keolis welcomes the opportunity to support the 2040 Regional Transportation Plan, which includes fostering safe and healthy communities, incorporating more sustainable transportation options, increasing passenger travel choices, and supporting economic development and diversification in Washoe County.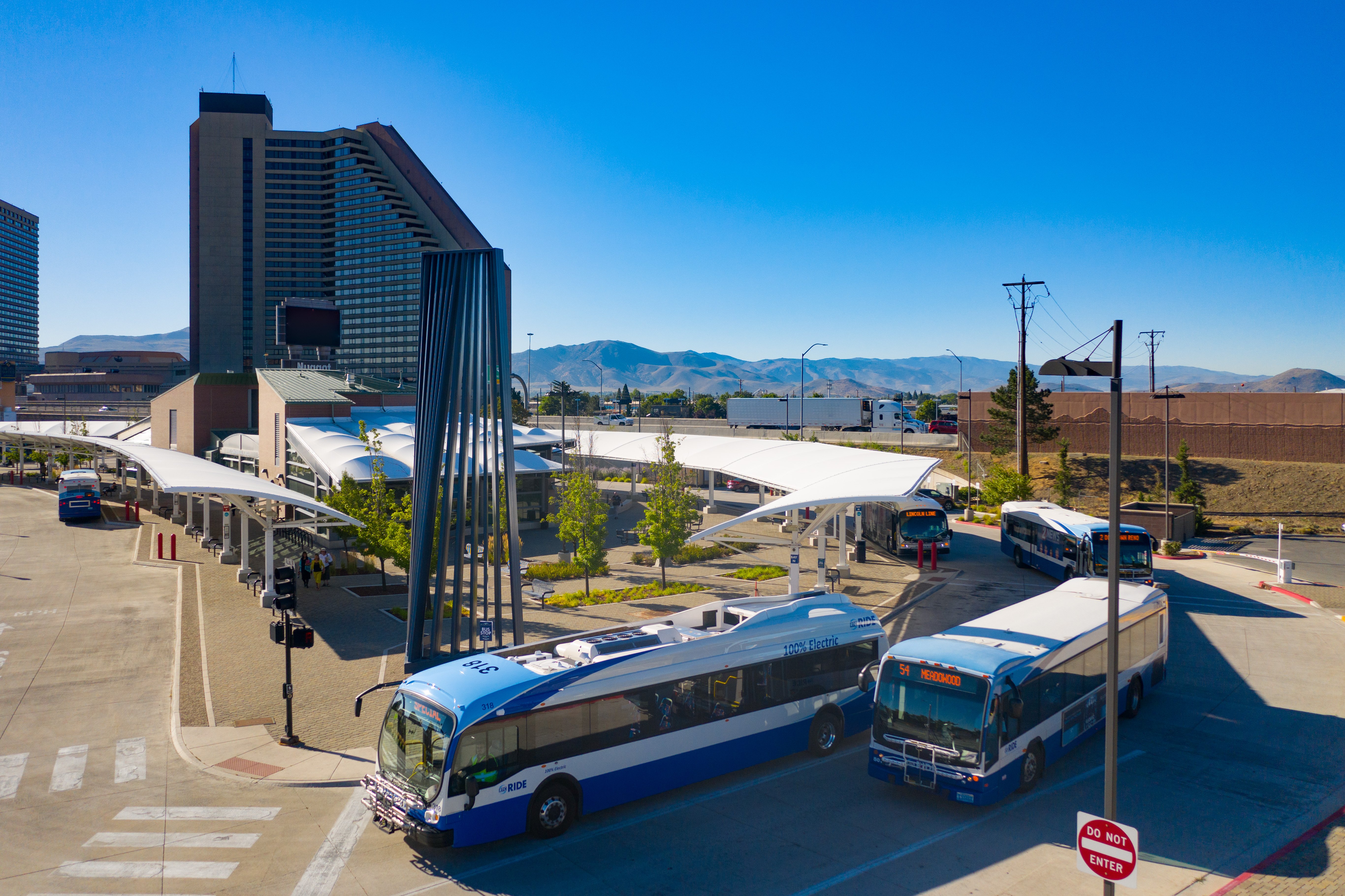 COVID-19 Updates
RENO
The RTC of Washoe County is now offering free rides to and from COVID-19 vaccine appointments.
To find out how to get a free ride to your vaccination appointment, click here or visit https://www.rtcwashoe.com/!
COVID-19 Precautions
How are you protecting your drivers against the spread of COVID-19?
As public transportation is an essential service, our drivers are considered essential staff. We have provided our drivers with gloves, masks, BZK wipes, and hand sanitizers accessible across multiple facilities. All operators have been instructed not to handle any money or passes from riders. All buses have areas creating a separation between passengers and operators, as indicated by the yellow line.
On RTC Washoe vehicles, how are you abiding by the health officials' guidelines that there should not be any more than 10 people in a public space?
RTC Washoe has implemented several actions to urge transit riders to comply with social distancing precautions of keeping at least 6 feet of space between each other, including:
Reducing ridership by over 60%
Reducing close-proximity seating on buses by placing yellow tape on seats that prompt riders to sit farther apart
Shutting down the 4th

Street transit center to prevent masses from gathering in close proximity
Adding extra buses into circulation when buses on routes begin to get crowded
Is there enough room on buses for passengers to maintain 6 feet distance apart from each other?
At this time, yes, due to decreased ridership and demand. We also limit the number of seats where passengers should sit to create as much distance as possible between customers while balancing demand.
How are you cleaning the buses to prevent the spread of COVID-19?
Keolis has crews thoroughly cleaning the bus floors, windows, interior rails, and the driver's area and applying a disinfectant solution on every public transit vehicle each night. In addition to implementing enhanced cleaning practices and disinfecting of buses, drivers are provided gloves and hand sanitizer.
How have your cleaning protocols changed in the wake of the pandemic?
Keolis has added the use of a strong disinfectant in addition to daily vehicle cleaning.
Is hand sanitizer available for passenger and driver use on vehicles? At RTC Washoe facilities?
As it is available, we provide hand sanitizer at RTC facilities and to our drivers.
Are RTC Washoe customer service counters still open? How has the situation affected customer service?
The RTC 4TH STREET STATION North Building, South Building, and Customer Service window will be closed to the public indefinitely to minimize public interaction in the interest of everyone's safety. You can reach Customer Service by calling (775) 348-RIDE (7433). To purchase tickets, Ticket Vending Machines are located outside of 4TH STREET STATION on the middle island near Route 15 and Route 5. Tickets can also be purchased by downloading the Token Transit app on your smartphone or mobile device.
The RTC remains open for business, but effective Friday, March 20 at noon, administrative and transit customer service offices will be closed to the public to minimize potential exposure to and transmission of COVID-19. The public is asked to reach out to RTC's departments by phone or electronically using the email addresses below. Calls and emails will be answered during normal business hours, Monday through Friday.
How are RTC Washoe ticket kiosks, facilities, and bus stops being cleaned to prevent the spread of COVID-19?
Our facilities and ticket vending machines also receive daily cleanings.
How are you ensuring social distancing on buses and at bus stops?
We limit the number of seats where passengers should sit to create as much distance as possible between customers while balancing demand. We also have extra buses ready to be added to service in the event coaches near 50-percent capacity. Riders waiting at bus stops are encouraged to practice social responsibility by maintaining a 6-foot distance between other passengers.
COVID-19 Updates and Protocols
What is the protocol for Keolis employees who test positive for COVID-19?
The safety of our employees and passengers is always our primary concern. All our actions prioritize what matters most to us: the safety and well-being of the Washoe County Community.
Should a Keolis staff member or driver test positively for COVID-19, we will investigate any recent encounters he or she has had with other staff or members of the public in close proximity (three to six feet) over the past few days. The individual will then be required to self-quarantine for 14 days to ensure the infection does not spread. We will assist the individual in seeking appropriate medical attention if asked.
Keolis closely monitors guidance from the authorities, including our partners, the RTC Washoe, Department of Health and Human Services Nevada Division of Public and Behavioral Health (DPBH), and the Centers for Disease Control and Prevention (CDC). When the authorities deem it safe for our employees and passengers, we will do everything in our power to provide services only when it can be done safely.
What will be done if a Keolis employee is exposed to the virus but only found out after they had interacted with clients and customers?
We will take the same precautions as noted above with respect to coworkers, treating the situation as if the exposed employee has a confirmed case of COVID-19 and sending home potentially infected employees that he came into contact with. As for third parties, we will swiftly investigate and urgently communicate with customers and vendors that came into close contact with the employee to let them know about the potential of a suspected case.
Employees
For specific sanitary and hygiene protective measures provided to our employees, please see the "COVID-19 Precautions" section above.
What current rights and benefits do Keolis employees have?
As a general rule, Keolis offers eligible employees a full array of benefits, including paid vacation and sick leave, health and dental insurance, vision care, flexible spending accounts, a 401(k) retirement savings plan, an employee assistance program, and education assistance to employees who seek career and professional development through job-related courses or degree programs.
However, in many of our locations, if there is a collective bargaining agreement with local unions in place, it will take precedent over standard Keolis provided benefits.
Are there any collective bargaining agreements currently in place for Keolis affiliated employees in Reno Washoe County, and have any accommodations been added during the COVID-19 crisis?
The existing CBA provides roughly 58 hours of paid sick leave on an annual basis. This leave is accrued on a pay period basis. As a measure of care and concern for the welfare of our employees, Keolis has added 22 hours to this bank so operators may utilize sick leave benefits if a COVID-19 health issue arises.
Operations
Has the RTC Washoe reduced operations?
Transit continues on a normal schedule as Governor Sisolak has classified transit as an essential community service. Heightened awareness of coronavirus may cause service delays, and we apologize for any inconvenience. The RTC is making adjustments as needed to continue serving our customers.
Public transportation is an essential service. How can you reduce service at a time when the community needs you?
The safety of our employees and passengers is always our primary concern. All our actions prioritize what matters most to us: the safety and well-being of the communities we serve across the country.
We remain committed to providing this essential service to the community, especially during this challenging time. However, with the 30-day mandated shutdown of non-essential businesses, we are experiencing lower ridership across all routes. We will continue to provide transit service to our residents while balancing the fluctuation in demand.
Why hasn't RTC Washoe reduced fares when it has reduced service?
We find ourselves in a unique situation where we've reduced the frequency of service to accommodate demand while still operating vehicles to ensure buses aren't crowded and that we're maintaining social distancing among passengers.
The main source of funding for transit, sales tax revenue, has decreased dramatically. To maintain this essential service, it is still imperative for us to continue to collect fares during a time when resources are already scarce.
We also want to ensure that we do not create a false increase in ridership by allowing free fare. The net result would be more riders on the bus and an inability to control the social distancing in place.
Contact
For more information about these and other Nevada operations, please contact 1-844-RIDE-KEOLIS.