Global Leaders of Rail Operations
Keolis knows rail. As the largest operator in the U.S., carrying more than 470 million passengers worldwide, we have the global insights and regional expertise to meet the challenges of today while creating a safer, more connected tomorrow.
Safety
Safety is our top priority. We leverage our expertise and global insights to create safe and secure environments for our passengers and team members worldwide.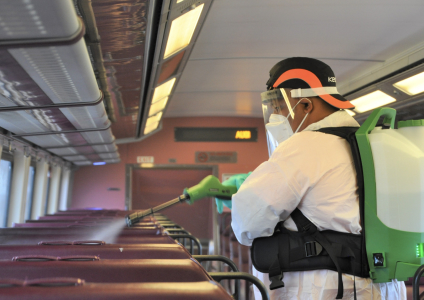 Resiliency
As a transit leader with over 100 years of experience, we know how to adapt and evolve for the good of our partners, our passengers and the planet.
Community
Keolis innovates so communities can thrive. Providing accessible, equitable and reliable connections inform our attention to mobility, the economy and the environment.
What We Do
Operational Excellence
Keolis builds rail solutions for the future. As a contracted operator partnering with 300 public transit agencies in 13 countries worldwide, our access to global insights and innovations allows us to continuously elevate the commuter rail experience. We are committed to providing transit authorities with the smartest, most efficient and most adaptable services available. From new infrastructure construction to future-forward digital solutions – we offer a full range of best-in-class capabilities tailored to the unique needs of each of our partners and the communities they serve.
Contact Us
Questions for Keolis North American Rail or Keolis Commuter Services in Boston?
Global Insights
Solutions & Innovations
Keolis is proud to be a mobility pioneer and innovator in regional rail operations. Learn about our latest solutions and how they're positively impacting the communities we serve.
The Keolis Way
Vision & Values
Working for the common good is at the heart of our mission. The Keolis team is committed to increasing passenger satisfaction, contributing to the growth of local communities, supporting our employees' professional development and protecting the environment.
Think like a passenger

Provide positive mobility for all

Instill loyalty founded on trust and respect

Partner with our client and communities respecting local needs

Modernize networks with data-driven solutions

Advance sustainability efforts and resiliency to climate change

Build a strong safety culture and excel in operational compliance

Collaborate across local, national, and international operations

Invest in our employees and be the best place to work in mobility

Create a workforce representative of the communities we serve
By-the-Numbers
Measuring Success
At Keolis, exceeding expectations is in our DNA and demonstrated 
through our unwavering commitment to delivering measurable results.
250m
Annual passenger journeys
79%
Highest rate of Ridership Return across global agencies
42m
Annual train miles operated
750
Sets of equipment operated daily
Our Trusted Partners
Working Together
Working together we're designing smart strategies and solutions for the future. In our relationship with transit authorities and other partners, we offer attentiveness, transparency and true collaboration.







Your Fully-Integrated Partner
Keolis is fully equipped to meet both the transit needs of today and the complex challenges of tomorrow. Partnering with Keolis unlocks access to a full range of capabilities across an operational network, including:
Scheduling & operational compliance

Fleet procurement & maintenance

Weather resiliency

Risk, asset, and event management

Community engagement

Customer communications

Accessibility improvements
Contact Us
For general inquiries, please fill out the form.
Media Inquiries
For media inquiries, please email us directly.
Keolis Commuter Services - Boston
Keolis North America